Jurassic World: Dominion Dominates Fandom Wikis - The Loop
Play Sound
| | |
| --- | --- |
| | This article is a stub. You can help the Kanojo, Okarishimasu Wiki by expanding this page. Include missing information to help improve the article. |
Nagomi Kinoshita (木ノ下 和, Kinoshita Nagomi?) is the grandmother of Kazuya Kinoshita. She is the matriarch of the Kinoshita family, and is the co-founder and owner of the family liquor store, Nagomi Sake.
Appearance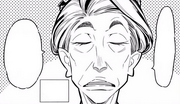 Nagomi is a thin, angular, classy elderly woman who usually wears her hair tied in a bun.
Often dressed in traditional Japanese clothing, but surrounded by modern technology [1]. She looks stern and calm at first glance. However, that changes quickly as she becomes cheerful and energetic as soon as she gets excited about something [2].
Personality
At first glance, Nagomi is a stoic person who doesn't like it when too much attention is centered on her when she has health problems [2] and she is very emotional when the topic of Kazuya Kinoshita's relationships comes up [2][1]. She cries either because she is very happy that Kazuya found a girlfriend or because the girlfriend came to visit and other situations related to those matters [1].
She is also a very spoiling woman and energetic. She loves to spoil anyone who is close to her, whether they are her family or her cherished acquaintance. Despite being an elder, she has the heart of a modern age otaku, going as far as idolizing a game character and often to brag her problem towards Kazuya, much to his annoyance. She also created an account on twitter to show the progress of her store and lifestyle.
While Nagomi is mostly seen with a childish emotion, she is not a person who lashes out in quick. The first time she deduced that Chizuru is a rental, she admitted that she was disappointed, but not making an explosive expression towards Kazuya. After Mami had blown Chizuru's truth, Nagomi is the only one who is not as angry as the others, even noticed that Chizuru had something that she just couldn't tell and not forcing her to express it.
Plot (SPOILER WARNING)
Nagomi appears hospitalized in the beginning of the series, with Kazuya showing up to her room during an emergency call. Upon realizing Kazuya came with a beautiful woman claiming to be his girlfriend, her stern demeanor completely changes and she becomes boisterous, much to her family's distress.
On the next hospital visit, Nagomi invites the other patients, including Chizuru's grandmother Sayuri, to see her grandson and his girlfriend. To Kazuya and Chizuru's horror, they realize their grandmothers are friends with each other, making matters even more complicated.
Once she was discharged from the hospital, Nagomi wished to visit Kazuya's apartment and hopefully see Chizuru again. After Chizuru adamantly refused, Kazuya tried coming up with excuses. However, Nagomi read his expressions and deduced that they are no longer a couple and expressed her disappointment in Kazuya. Chizuru, hearing the conversation from next door, immediately barges in and apologizes for being late, causing Nagomi to break out in tears of joy.
During the trip to the onsen, Kazuya is invited with his grandma to relax. She surprises him by renting out a room with Sayuri, who also happened to be there. Little did he realize, the two grandmothers conspired to bring Kazuya and Chizuru together, causing trouble for both of them. In the women's bath, Nagomi encounters Chizuru and offers to scrub her back. As she's doing so, she compliments Chizuru's lovely body and complains that her grandson doesn't have much to offer in comparison. Chizuru asks Nagomi if she would still care about Chizuru if she wasn't the person she thought she was, and Nagomi responds that she would love her regardless.
During New Years, Nagomi meets Ruka and is confused when Ruka states that she's Kazuya's girlfriend, causing her to angrily lash out at Kazuya for two timing. When Kazuya explains that Ruka is a pathological liar, she calms down and puts up a front to tolerate Ruka. Later on, Ruka wishes to talk with Nagomi alone, hoping to tell her the truth. Instead, Nagomi goes on about how great Chizuru is, and Ruka realizes that telling the truth is not enough, that she has to be grandma's favorite in order to win.
During Kazuya's birthday, she calls him to wish him a happy birthday and asks when Chizuru's is. When Kazuya answers that it's already passed, Nagomi angrily berates him on the phone for holding back such sensitive information. She demands that Chizuru also show up at the party. Ruka catches wind of this and appears to the party before Chizuru can arrive. Although Nagomi is disappointed Chizuru isn't there, Ruka is making a good impression on her with her manners. Later on, Chizuru finally arrives and Nagomi jumps over to hug her, destroying all progress that Ruka has made. Unfortunately, tensions rise between Kazuya and Ruka, forcing Kazuya to almost admit that she and Chizuru are separating. Just then, a call from the hospital forces the party to a halt and having Chizuru, Kazuya, and Nagomi rush to the hospital.
Once there, Nagomi and Sayuri playfully banter about cheating death. However, on the way out of the hospital, Nagomi talks to Chizuru and lets her know that she's aware of Sayuri's failing health, and wants Chizuru to have her ring.
Some time later, Sayuri has passed away and Nagomi and Kazuya arrives to her wake. She sends her prayers and promptly leaves, telling Kazuya that she will be reunited with her friend soon enough.
As she continues working with Kibe on the promotion of her business website, it is revealed that Mami has contacted her and is offering consultation.
During the Paradise Arc, Nagomi berates Kazuya again for witholding so much information, including the movie he produced for Chizuru, and she states that she had to learn of all of this from Mami. During the trip, she asks how well Chizuru is doing since her grandmother's passing and reassures her she will always have a family with them. When Mami has started to expose the truth that Chizuru is in fact, a rental and gives a half truth about Chizuru's deed, Nagomi is shown to be disappointed, but it seems that she notices that there is something wrong with how Mami exposes the relationship between Kazuya and Chizuru as she is expressing a less anger than Kibe and Kazuya's parents.
Quotes
Etymology
The name Nagomi means "harmony, peace" (和).
Nagomi's surname Kinoshita means "tree, wood" (木) (ki) and "under, below" (下) (shita).
Trivia
Nagomi's dream is that she wishes for Kazuya Kinoshita to find one stable partner and get married.
References