| | |
| --- | --- |
| | This article is a stub. You can help the Kanojo, Okarishimasu Wiki by expanding this page. Include missing information to help improve the article. |
Nagomi Kinoshita (木ノ下 和, Kinoshita Nagomi?) is the grandmother of Kazuya Kinoshita. She is the matriarch of the Kinoshita family, and is the co-founder and owner of Kinoshita Sake.
Appearance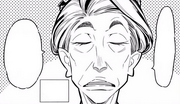 Nagomi is a thin, angular, classy elderly woman who usually wears her hair tied in a bun.
Often dressed in traditional Japanese clothing, but surrounded by modern technology [1]. She looks stern and calm at first glance. However, that changes quickly as she becomes cheerful and energetic as soon as she gets excited about something [2].
Personality
At first glance, Nagomi is a stoic person who doesn't like it when too much attention is centered on her when she has health problems [2] and she is very emotional when the topic of Kazuya Kinoshita's relationships comes up [2][1]. She cries either because she is very happy that Kazuya found a girlfriend or because the girlfriend came to visit and other situations related to those matters [1].
She is also a very spoiling woman and energetic. She loves to spoil anyone who is close to her, whether they are her family or her cherished acquaintance. Despite being an elder, she has the heart of a modern age otaku, going as far as idolizing a game character and often to brag her problem towards Kazuya, much to his annoyance. She also created an account on twitter to show the progress of her store and lifestyle.
Quotes
Etymology
The name Nagomi means "harmony, peace" (和).
Nagomi's surname Kinoshita means "tree, wood" (木) (ki) and "under, below" (下) (shita).
Trivia
Nagomi's dream is that she wishes for Kazuya Kinoshita to find one stable partner and get married.
References